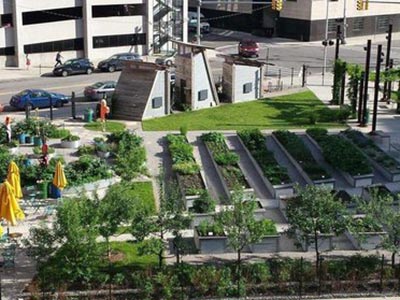 LAFAYETTE GREENS
The Greening of Detroit's Lafayette Greens is a green space and urban garden in the heart of downtown Detroit. Visitors, city workers, and neighborhood residents enjoy and relax in the space, watch veggies and flowers grow during the summer and enjoy seasonal programming. The award-winning garden was donated to The Greening of Detroit by Compuware in 2014. The Greening grows hundreds of pounds of chemical-free fruits, vegetables, herbs and flowers every year. Everything harvested goes to food banks, church pantries or volunteers. Visit www.greeningofdetroit.com for a calendar of events. Lafayette Greens is open to the public from April to September, Monday through Friday, 9am-5pm.
THE BEAR COTTAGE
Formality with a touch of chaos, The Bear Cottage garden is full of surprises. Deborah created a simple, graceful design that hugs the front of our small cedar bungalow. Two old bears standing in patches of English Ivy serve as sentries, while a third bear welcomes visitors at the front door. On the east side two magnolias meet to form an arch. Open the gate below and enter a tiny hidden garden. A pansy redbud forms a second arch that leads to the backyard. Walk down the driveway on the west side of the house, you'll find an allée of Little Leaf Lindens which ends at the arched door of a writer's studio. A terrace outside of the studio is used for dining. You will find trees of various sizes scattered, front and back. The back lawn was left open for play.
AL FRESCO
Our garden is inspired by trips to Europe, Detroit Garden Works and past garden tours. The landscape was designed and installed by Deborah Silver and Co. We extend our living space onto our terrace to entertain family and friends. We like to mix the outdoors with good friends, wine and food to create memories! The primarily evergreen landscape is simple and low maintenance. The front landscape is formal and symmetrical, and looks good every season of the year. I like to plant our containers myself. I have a small kitchen garden in one trough. A pergola reminiscent of one I saw in France was fabricated for us by The Branch Studio. New this year—an awning over that pergola!
THE GARDEN AT HAWK HILL
It all began with a white garden for our backyard wedding. Since then, Hawk Hill has evolved into a plant collector's dream garden. He's a foliage guy and a collector of dwarf conifers, small trees and shrubs. She's into flowers, including plants that deer and rabbits do not eat. Variegated plants of all kinds are the third common denominator of these collectors. When they find them, they bring home the bounty such as Maple 'Esk Sunset', a variegated Zelkova tree (Goshiki), Forsythia 'Fiesta', Hydrangea 'Gold Rush', Hydrangea 'Yuki Gessho', Holly 'Sunsplash', Hemlock 'Moonfrost', Spirea 'Painted Lady', Spirea 'Pink Ice', variegated five-fingered Aralia, variegated Rose of Sharon, and variegated Lilac and Viburnum. In 2015, the grassy hill under the mighty oaks out front was transformed into a switchback path with a hidden garden lookout. Don't miss the hardy Begonia grandis, hardy Fuchsia magellanica, and Epimedium latisepalum. You will find a terra cotta pottery collection filled with annuals and tropical plants, some part of the evaluation trial period for the future. "Goodbye" benches on a bluestone patio initiated the courtyard garden in the driveway circle with the newest beds where the collections continue.
WATERMARK GARDEN
A relationship with this client was forged in 2006 over his passion for landscape, and his love of terra cotta. He was ready for a carefully chosen group of garden pots that would accurately reflect his taste, and bring a strong sense of the garden to the landscape elements. His stunning collection of handmade Italian terra cotta pots grace a generously scaled pool terrace and pergolas set high on the property. All of those containers have been planted for the summer season. A private side terrace is intimately furnished with seating and French glazed pots. The pool itself-one of the most beautiful I have ever seen. Beautiful materials and meticulous attention to detail define this landscape in a way that would delight any garden aficionado. Three years ago, the front yard landscape was redone in its entirety. A substantial collection of topiary evergreens arranged in various shapes certainly qualifies this as one of the most unusual landscapes we have ever designed and installed.
PARK PLACE
This large property features a dramatic rise in the grade from the street to the residence, and then a sharp drop to the lake. Be sure to wear good walking shoes, and be prepared to spend some time to see it all. The landscape is primarily green, with a special emphasis on curving landscape beds densely planted with a stunning collection of evergreens, including some magnificent weeping Alaskan cedars. The large perimeter evergreens are faced down with a variety of smaller growing and dwarf evergreens. A collection of large specimen European green and red beech set in the lawn areas are breathtaking. The landscape overall is quite park like. As the residence is very contemporary, the immediate surrounding landscape is equally so. The rear yard features a grove of multi-trunked Himalayan white barked birch. The pool terrace overlooking the lake is flanked by substantial plantings of hydrangea "Bobo." It is obvious the landscape here has a strong steward with a big love for nature.
CORGI RUN
Landscape designer Deborah Silver will put her garden on tour, along with selected gardens of her design or influence, in her 11th annual Garden Cruise. Her landscape, now 22 years old, provides an insight into her design process, much of which is very friendly to her beloved corgis. Sited on a one-and-a-half city lot in an old neighborhood in Pontiac, this garden features her clean and crisp design aesthetic at work, developed over many years. An aging landscape sometimes asks for renovation. You will see a few changes. The property features several changes of grade. The driveway level garden is home to a patch of butterburs. Five large containers make the driveway feel more like a terrace. The fountain level garden surrounded by Princeton Gold maples has become quite shady, and is a cool place to be in the heat of the summer. The upper level garden has a new collection of roses. This small property features maturing trees, shrubs, and stands of groundcover, punctuated by favorite perennials. The deck level has 16 Italian terra cotta pots planted with seasonal flowers. The rear porch featuring a shelled cupola will be open for viewing, as usual.
Updated 6-24-18